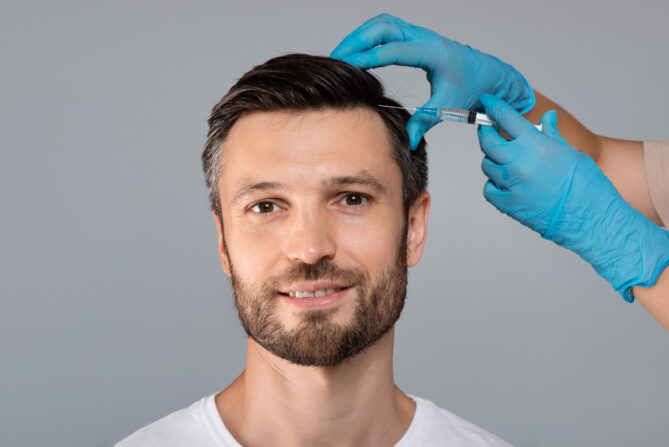 PRP TREATMENT
A Platelet Rich Plasma (PRP) treatment for hair is a treatment designed primarily for hair and skin. Many people today choose PRP treatments as an effective way to combat hair loss. For patients who have had a hair transplant, PRP can help hair follicles recover and promote hair growth.
Do you notice that your hair feels thinner or that you are losing more hair than usual? Then PRP may be the solution for you. We have extensive experience with PRP treatments, which gives you as a patient increased security. PRP treatment has no side effects, as it is based on the body's own cells and does not contain any drugs or chemicals. The treatment is 100 % natural and free of additives.
Important information on labels on PRP tubes
We want to emphasise our commitment to quality by using high quality PRP tubes from Arthrex and RegenLab. It is important to note that many other clinics in Sweden use 2-3 tubes for a PRP treatment. However, it is important to understand that their tubes do not meet the same high quality standards as Arthrex and RegenLab. In fact, they would need to use up to 7 tubes to match the amount of growth factors that a single tube from Arthrex or RegenLab offers.


HOW A PRP TREATMENT WORKS
We take about one tube of blood from the patient, which is then centrifuged to separate plasma with a high concentration of platelets (thrombocytes) from other plasma and red blood cells. The concentration of platelets is 3-5 times higher than in natural blood.
Your scalp is numbed with anaesthetic to minimise discomfort.
The platelet-rich plasma is then injected into the scalp with small needles.
The platelets release growth hormones that increase blood circulation and cell division, helping weak hair follicles to recover. This method also works to provide transplanted hair follicles with extra nutrition to stimulate hair growth.
PRP IS EFFECTIVE AGAINST HAIR LOSS
PRP improves the condition of the hair follicle, increases blood flow and promotes cell growth, resulting in stronger, denser and finer hair. Historically, PRP has been used in surgery and sports medicine, and more recently it has been increasingly used in the aesthetic treatment of hair and skin, sometimes referred to in media circles as the 'vampire treatment'.
WHO IS A SUITABLE CANDIDATE FOR THE EPP?
If your hair is starting to thin and the follicles are still intact, a PRP treatment can help restore your hair to its original thickness and reduce hair loss. PRP works best for women and younger men who have recently experienced hair loss. Age does not matter, but there is no guarantee that PRP will work as results vary from person to person.
PRP CAN DEAL WITH:
HAIR LOSS: Initially, a course of three treatments every few weeks is required. Many patients experience reduced hair loss after just 3-4 weeks. After 3-6 months, patients have usually noticed noticeable hair growth and thicker hair. After that, occasional follow-up treatments may be required.
ALOPECIA AREATA: PRP has shown successful results in treating alopecia areata, a disease in which the immune system attacks the hair follicles, causing patchy hair loss.
SCALP PROBLEMS: Many patients with chronic irritation or itching of the scalp have reported a reduction in symptoms after PRP treatment.
TREATMENT AREAS:
PRP can be used on all or part of the head, eyebrows and beard growth. In addition, it can be applied to other parts of the body, including the face, neck, décolletage and hands.
WHY CHOOSE US?
We only work with specialists who are experts in PRP injections.
Akacia Medical is a clinic specialising in hair loss.
We use the best PRP equipment on the market.
Since 2001 we have been performing PRP treatments and we are based in Stockholm.